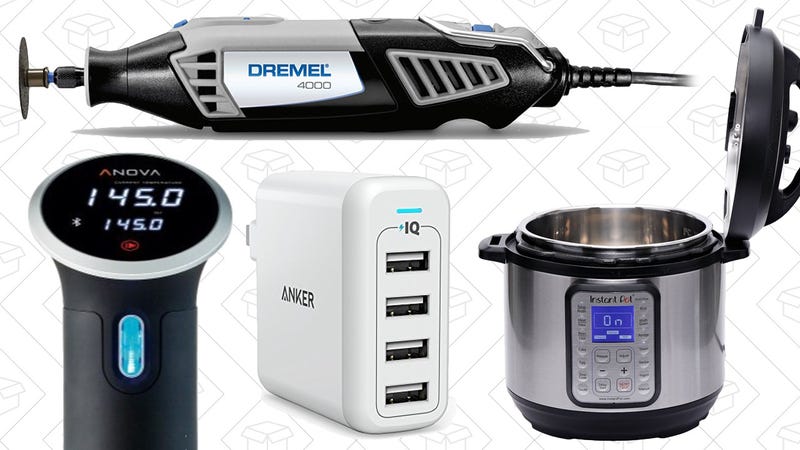 The newest Instant Pot pressure cooker, a $109 sous-vide circulator, and a discounted Dremel starter kit lead off Tuesday's best deals from around the web.
Bookmark Kinja Deals and follow us on Twitter to never miss a deal.
Top Tech Deals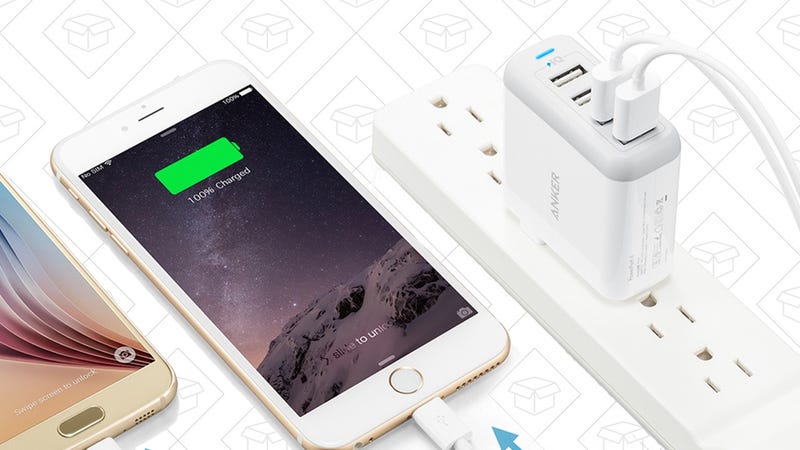 Anker's travel friendly PowerPort wall chargers are a great addition to any suitcase or laptop bag, and two different models are on sale today.
Most of you will be interested in the PowerPort 4, which can provide up to 8 amps simultaneously across four ports. I have one of these, and it's extremely well built, and even includes an LED that changes colors once all of your connected devices are fully charged. Just note that this deal is only valid on the white model.
Owners of a few very specific phones may be interested in the PowerPort+ 1, which includes a single USB-C port with Quick Charge 3.0. That is not the same thing as USB-C Power Delivery, so this isn't ideal for laptops or other high-draw devices, but it does come with a USB-C cable, which is nice.
---
---
Whether you own an iPhone 7 or not, it's time to invest in a pair of Bluetooth headphones, and Bose's around-ear SoundLink IIs are down to $229 on Amazon, an all-time low.
Reviewers say these sound fantastic, and that 15 hour battery is nothing to sneeze at. My favorite feature though is a toggle switch that lets you switch between two connected devices without re-pairing, which will save you a ton of hassle if you're, say, transitioning from a phone during your commute to a laptop at work.
---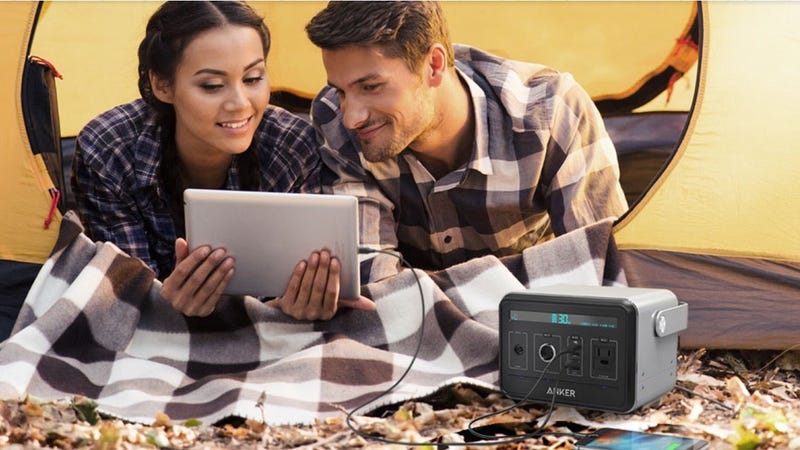 Anker has continued its inexorable march towards producing anything that includes a battery with the gargantuan PowerHouse electric "generator," and you can save $170 on yours for a limited time, the best price ever by $70.
I put "generator" in scare quotes because you can't readily use the PowerHouse to generate electricity, unless you buy additional solar panels. Instead, it's basically a gigantic lithium-ion battery that can power everything from mini-fridges to laptops to televisions to emergency medical equipment for hours on end.
There are a few similar products on the market, most notably Goal Zero's Yeti 400, but those use heavy lead-acid batteries (the Yeti weighs 29 pounds), rather than lithium-ion like the 9.3 pound PowerHouse.
I could see using this thing as an alternative to a noisy gas generator for tailgating, or you could just keep it charged and at the ready for power outages at home. It's definitely an investment at its $500 list price, but for a limited time, it's down to $330, its lowest price ever by a wide margin.
---
If you want to cut the cord, but can't abide earbuds, Sony's popular on-ear MDRXB650BTs are on sale for $68 right now, an all-time low, and a match for Black Friday. These include NFC pairing, a built-in microphone, and 30 hours of battery life, and you even get your choice of three different colors.
---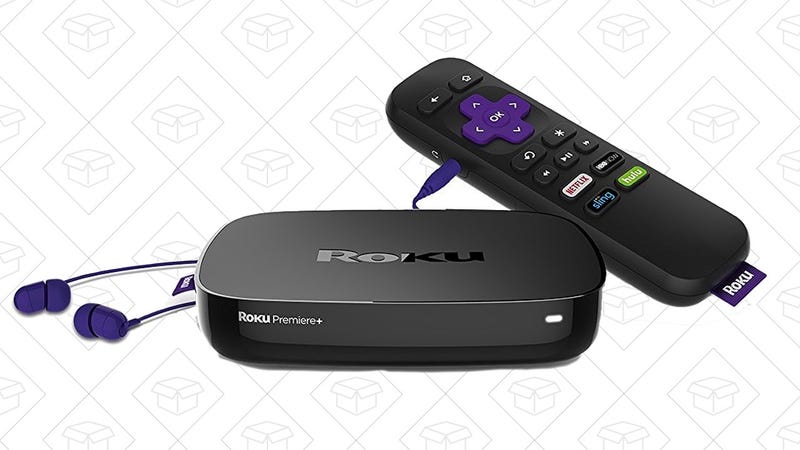 Roku's Premiere+ is one of the only streaming boxes in town capable of playing HDR 4K video at 60 FPS, and at $79, it's by far the cheapest. That's the best price Amazon's ever offered on this model, so if it's been on your wish list, don't hesitate.
---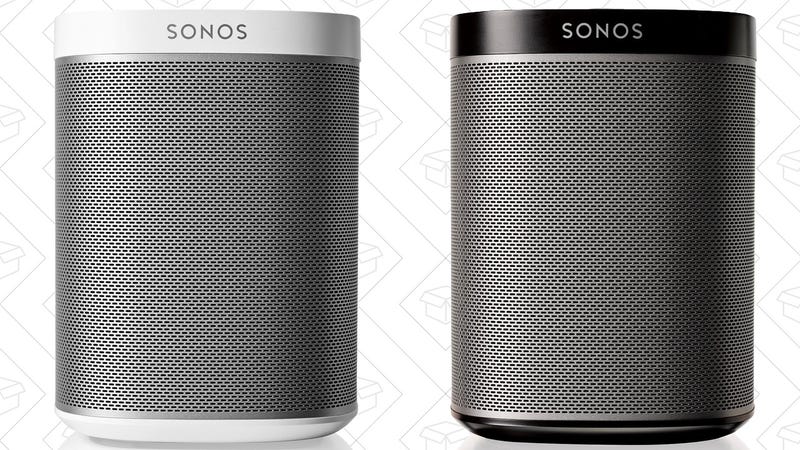 We've seen bigger SONOS PLAY:1 deals before, but generally speaking, discounts of any size are few and far between. The PLAY:1 is the smallest member of the SONOS family, but it still sounds fantastic, and you can even link two of them together as a stereo pair.
---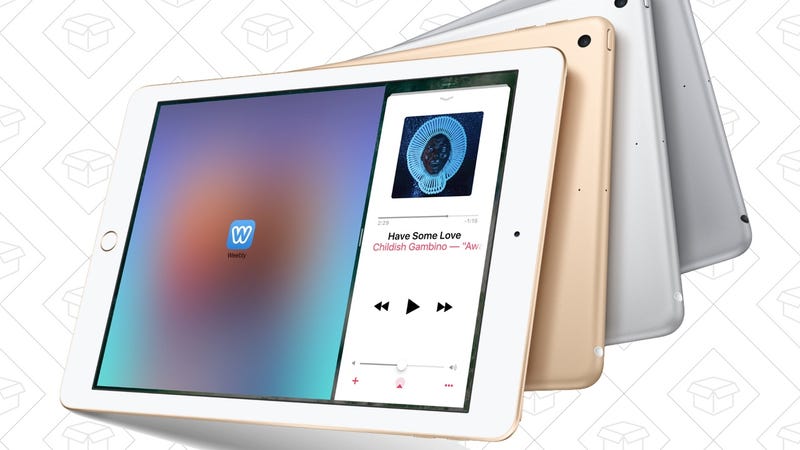 Apple's newest iPad is mostly notable for being cheap (by Apple standards), and B&H is making it even more enticing with an extra $30 discount. Plus, unless you live in New York or New Jersey, you won't owe any sales tax.
---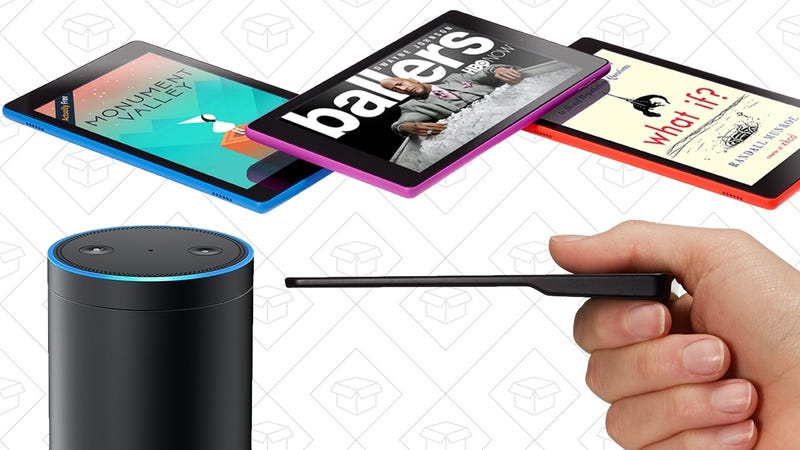 If you haven't yet picked out a Mother's Day gift (or just want to treat yourself to something nice), Amazon's running a big sale on many of its most popular gadgets.
The bulk of the discounts are on Kindle ereaders, including the first ever deal on the Kindle Oasis, the Kindle for the 1%. Unfortunately, the $50 price drop is only valid on the model with cellular networking.
If Mom still hasn't gotten an Amazon Echo, that would also make a great gift at $30 off.
And rounding out the discounts is the Kindle Fire HD 8 tablet for $65, or $25 less than usual.
---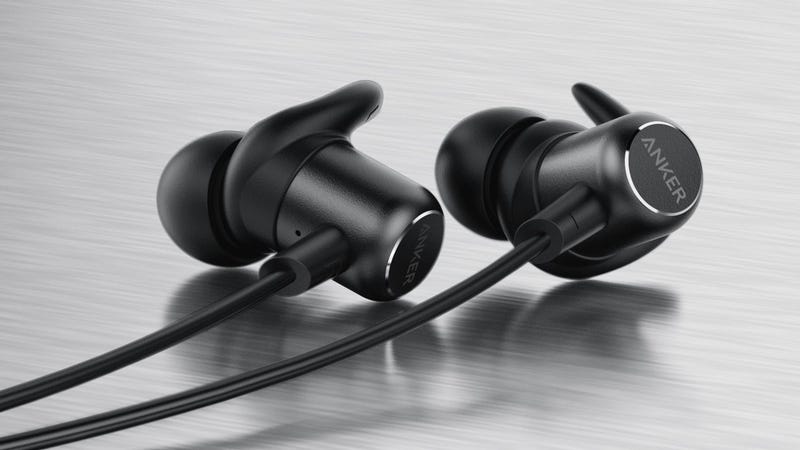 Anker's SoundBuds are our readers' favorite affordable Bluetooth headphones, and the newest version is down to a new all-time low price.
The SoundBuds Slim are, as you might have gleaned from the name, far smaller than the originals. Heck, they look like a small set of wired earbuds; you might never guess there were batteries and Bluetooth radios in there. Despite the size, these buds are still rated for seven hours of battery life, and recharge fully in just 90 minutes.
Top Home Deals
If you don't own a pressure cooker, today's a great day to fix that, as Amazon's knocked the month-old Instant Pot IP-DUO Plus60 down to $99 today, or $20 less than usual.
The Plus60's predecessor, the IP-DUO60 (which had a few fewer options and temperature settings) was one of the most popular items we listed last year, so this is a great chance to get the upgraded version without paying any extra. .
If you're worried that you won't get a ton of use out of this thing, note that in addition to standard pressure cooking, Instant Pot is also our readers' favorite slow cooker, and one of their favorite rice cookers too. To put a fine point on it: It's one of the most versatile kitchen gadgets you can own.
---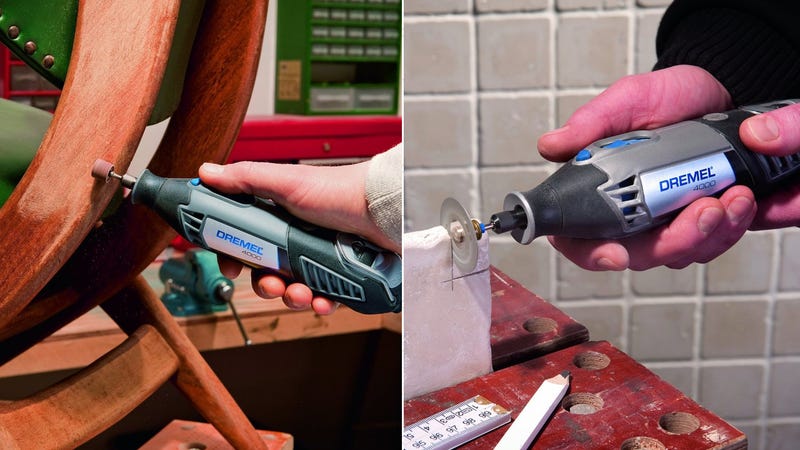 You might not need to use a Dremel all that often, but it's one of those things everyone should keep in their tool box, if only for sanding wood and carving jack-o-lanterns. Hell, my wife used ours to turn an iPhone 6 case into an iPhone 7 case.
The Dremel 4000 features a variable speed motor that can spin anywhere from 5,000 to 35,000 RPM, and includes 30 accessories and two attachments to get you started with projects all around the house. If you're a Prime member, you can get it for $42 today, an all-time low by over $10.
---
If you've ever eaten at a nice steakhouse, you were probably eating sous-vide meat. Here's a secret though: It's really easy to get those kinds of results yourself, and MassDrop here to help with a $109 deal on the Anova Bluetooth sous-vide circulator.
Lifehacker has a great explainer on Sous-Vide cooking for you to check out, but the basic idea is that you seal the food in plastic bags, and then cook it in precisely heated water over a longer period of time. It sounds weird and kind of sterile, but the result is meat that's cooked to the exact right temperature all the way through.
---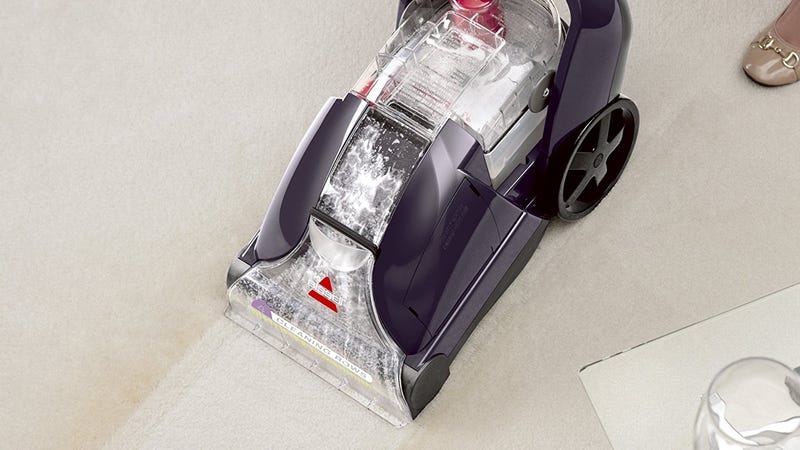 If you've never deep-cleaned a carpet, get ready for an eyeopening experience when you see just how much crap a person can track into a home. At $63 (its best price ever by nearly $20), this discounted BISSELL PowerLifter is perfect for keeping your carpets actually clean as opposed to just looking clean.
---
A good multitool is something everyone should own, and the popular Gerber Diesel has never been cheaper, as long as you're a Prime member. That gets you 15 tools in one sleek, murdered-out package.
---
On the one hand, a cast iron drop biscuit pan is a bit of a unitasker. On the other, it's $8 (easily an all-time low), and biscuits are delicious. I'll let you make the call.
---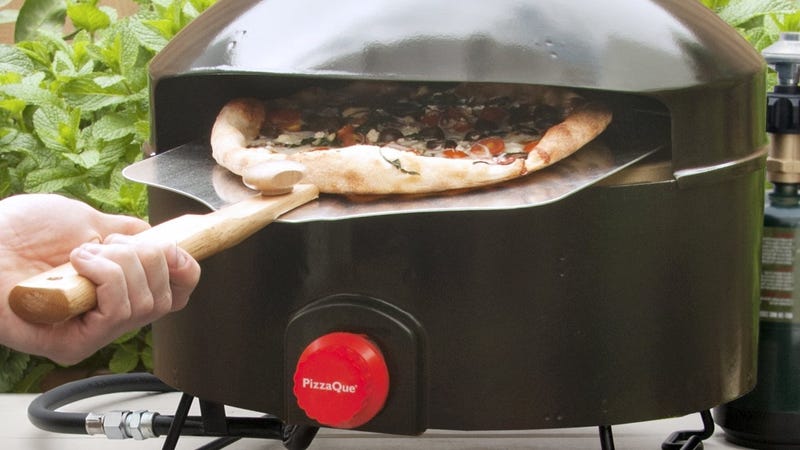 The trick to making delicious pizza with crispy crust is a hot oven. Like, really hot. PizzaCraft's propane-powered PizzaQue outdoor oven can get up to 700 degrees, which will turn out a perfectly cooked pizza in just 6 minutes.
Today's $74 deal is an all-time low, and in fact, we posted it in January for $112, which was a best-ever deal at the time. Just be sure to get a pizza peel to go with it.
---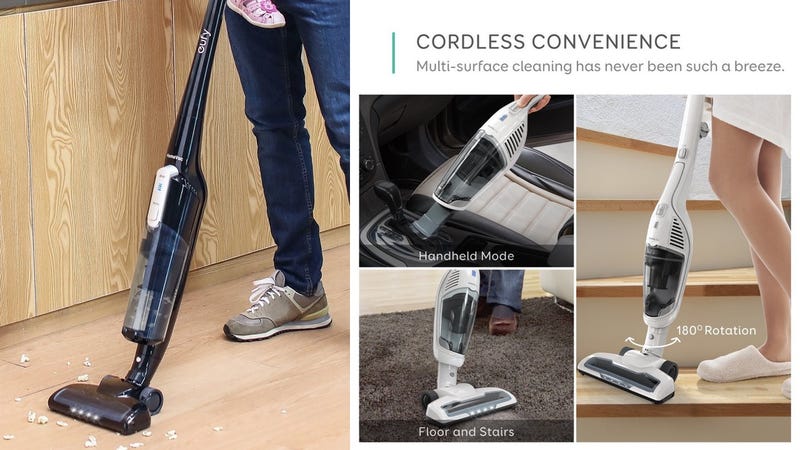 Anker, purveyor of basically all of your favorite charging gear, also makes really popular cordless vacuum cleaners (under their Eufy sub-brand), and both models are on sale today for the best prices we've seen in quit some time.
http://gear.lifehacker.com/your-favorite-anker-products-1768268009
Most of you will probably want to opt for the HomeVac Duo, which runs for up to an hour on a charge, and features a detachable hand vac for cleaning furniture, your car, and other hard-to-reach places. Today's $90 deal is a solid $20 discount off what you'd normally pay.
If you place a premium on sheer vacuuming power, the newer HomeVac features stronger suction and a larger dust bin, though it lacks the Duo's versatile 2-in-1 design. Still, $104 is $26 less than usual.
---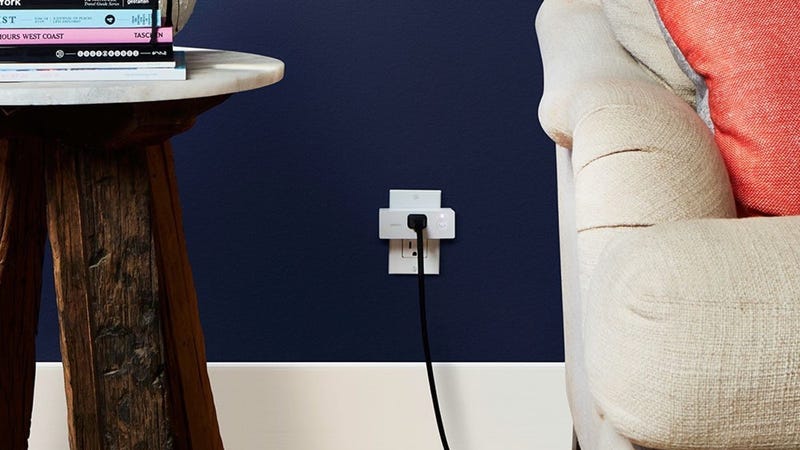 Not only is the new WeMo Mini Smart Plug smaller than the top-selling original so as to only cover one outlet, it's also cheaper. You'll almost always see it available for $35, but today on Amazon, it's knocked down to $30.
Despite its diminutive size, this includes all the same features as the full-sized WeMo Switch, including IFTTT support, Alexa compatibility, and an Away mode that will randomize your lights to deter ne'er-do-wells.
---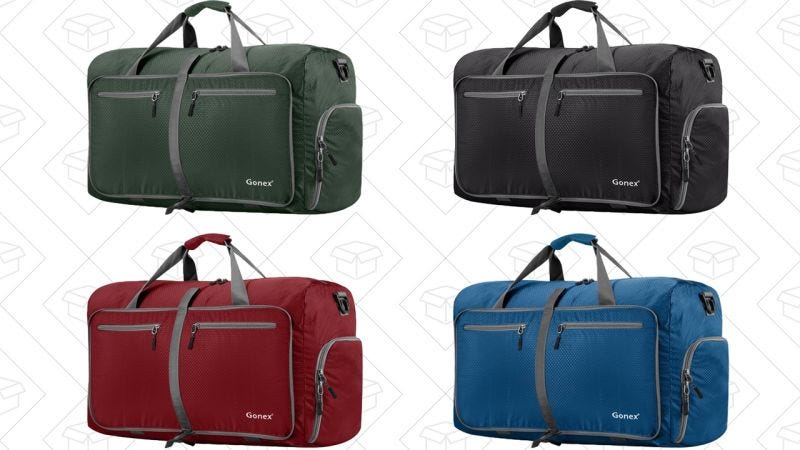 A big-ass duffle bag is something everyone should keep handy, and you can get an 80L model for $17 today in the color of your choice, or a smaller 60L bag for $16. Just be sure to use the correct promo code at checkout.
---
Rubbermaid's microwave, freezer, and dishwasher safe Brilliance food storage containers are the perfect home for your leftovers, and even feature sealable vents for splatter-proof microwaving. At $20, the starter set has never been cheaper, though this deal is only available for Prime members.
---
Compressed air cans are great for cleaning your computer and keyboard (which are probably very disgusting), and you can get four cans for just $12 today on Amazon.
---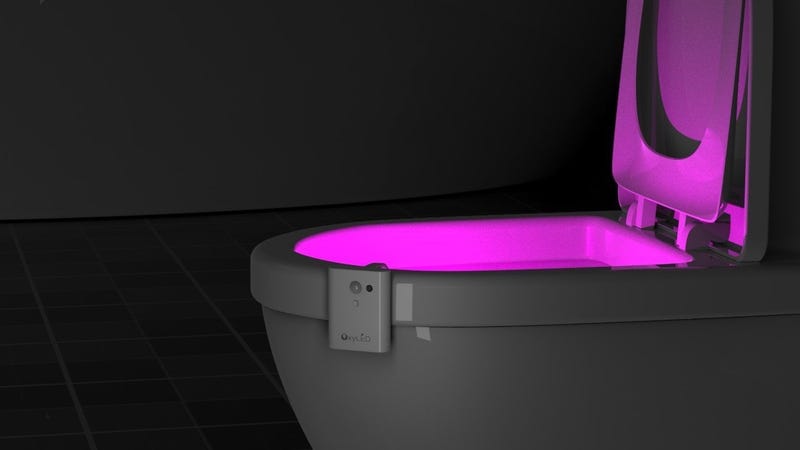 You probably looked at that image up there and laughed. But let me tell you, there's nothing funny about using the bathroom in the middle of the night and having to turn on an overhead light to see where you're going. Because as soon as you hit that switch, you know you're not getting back to sleep for another hour.
OxyLED's motion-sensing toilet lights fit on just about any toilet, and can output 12 different colors of light without wreaking havoc on your circadian rhythms. For a limited time, you can score one for just $5 with code 1OXYTN01.
---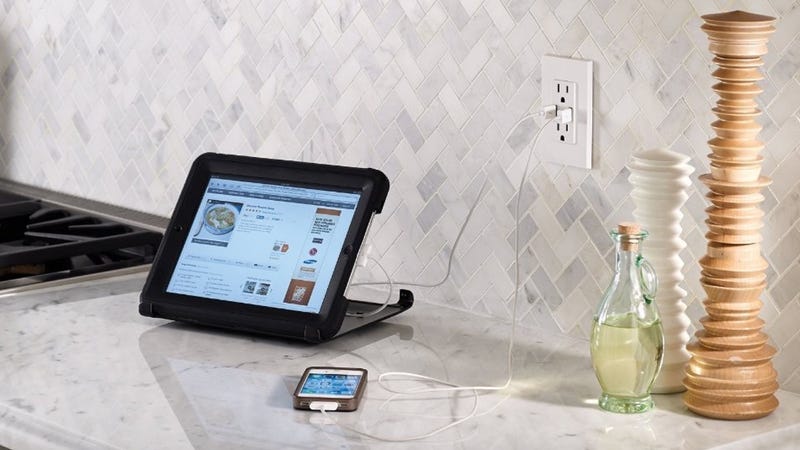 These days, you probably charge as many things over USB as you do over standard AC outlets, so it only makes sense to add some semi-permanent USB ports to your home.
Today on Amazon, you can get highly-rated duplex receptacles with a pair of USB ports for $15 each with promo code ABID56GZ, one of the best prices we've seen. These have proven very popular with readers in the past, even at higher prices, so be sure to secure a few before Amazon sells out.
---
It's been over a month since the last time we posted a deal on Haribo Gold Bears, so you've finished your last bag and you're ready for a resupply, Amazon's marked it back down to $10 with Subscribe & Save, or $11 with standard shipping.
Also, fear not, these aren't the sugar free ones that famously do horrible things to you body.
Top Lifestyle Deals
Amazon wants you to think about replacing those comfy clothes that may have seen better days. Bras, bralettes, pajama sets, lounge pants, robes, and more are marked down, and in tons of sizes (up to a H cup in some bras), colors, and brands. These prices are only good for today, so don't sleep on this deal.
---
It's finally getting hot outside again, which means it's time to break out the shorts. If you need some new options for your wardrobe, Amazon's discounting dozens of Lee shorts, capris, skirts, and other garments that leave parts of your leg exposed to just $18-$25. Just note that like all Gold Box deals, these prices are only available today, or until sold out.
---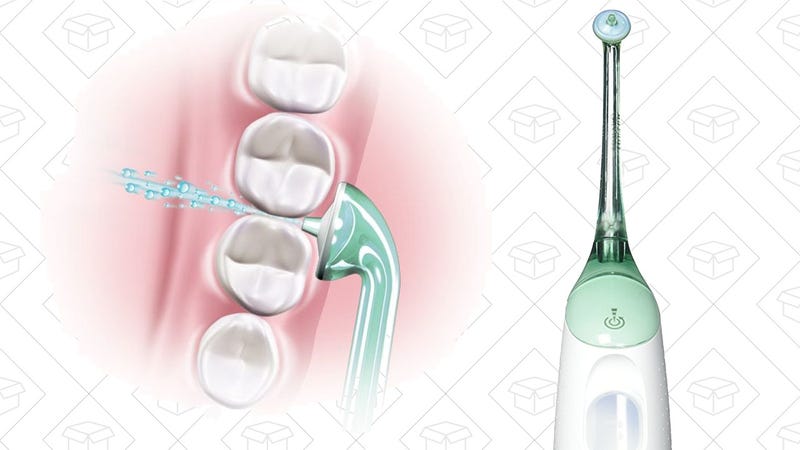 The new Philiips Sonicare Air Floss is a better way to clean between your teeth, and (hopefully) one you're less likely to forget about. Just fill it with water or mouthwash, position the tip between your teeth, and hit a button, and between 1-3 high pressure bursts will rinse out all of the grime between your teeth, no floss required.
For a limited time, Amazon's taking an extra $10 off when you clip the on-screen coupon, so order yours now, and impress your dentist at your next appointment.
---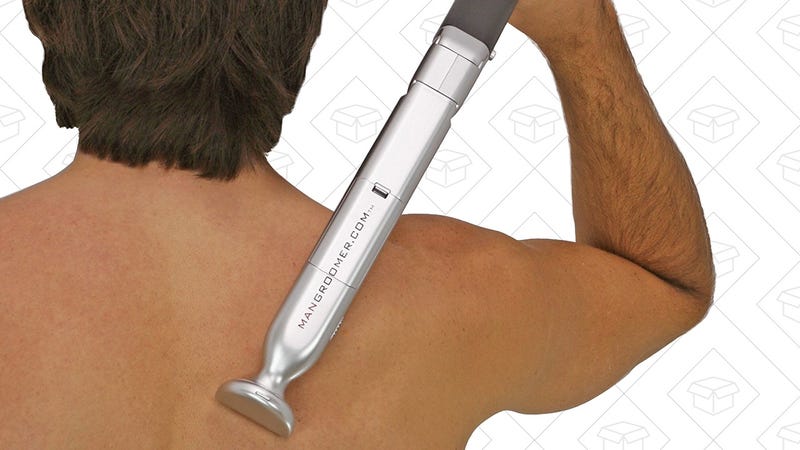 Electric shavers are great for your face, but what about your back? The highly-rated (and ALL CAPS) MANGROOMER features an extra-long folding handle and 1.5" blade so you can reach every part of your body without any help (much like the BaKblade, which we've covered here).
Similar products have been alarmingly popular with our readers in the past, and today's price is an all-time low, for Prime members only.
---
If you've had your eyes on a Fitbit (may we recommend the new Alta HR?), or wanted to get one for Mom this month, the entire lineup is on sale right now on Amazon, with discounts ranging from $20 to $50.
---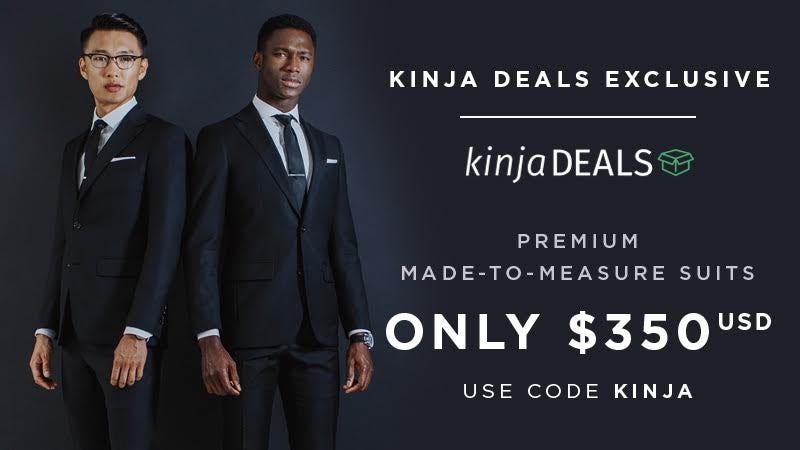 You voted Indochino your favorite custom clothing company by a wide margin, and this week you can dress yourself in one of their premium suits for just $350. Use promo code KINJA.
You do not have to go through the measurement and customization process to lock in this discount. You can checkout now and submit later, which makes it very easy to gift a suit.
This matches our exclusive Black Friday discount, which is the best deal Indochino's ever offered, and one of our most popular exclusives ever.
Having a suit that fits perfectly is great, but the little details Indochino lets you customize, from your jacket lapels to pocket flaps to accent stiching around your buttons, are where things get fun.
How It Works
Measure and customize from home…
Follow the directions on Indochino's site to submit your measurements and customize your suit. Once the suit arrives, if anything doesn't fit quite right, Indochino will provide directions for your local tailor, along with a $75 credit to cover their work. If for whatever reason your tailor cannot resolve the issues, Indochino will remake your suit. Shipping and return shipping are free.
If you live near a showroom…
Purchase your suit online with our discount and take your receipt/account info into an Indochino showroom. They'll do your measurements, walk you through your customization options, and have your suit delivered to the showroom. Return once it arrives for any final alterations if they're needed.
Those who already have a closet full of suits may want to opt for something more interesting like the Indigo Twill Windowpane, while the rest of us should go for something versatile.
Let us know what you'll be wearing to your next event (or day at the office) in the comments.
Top Media Deals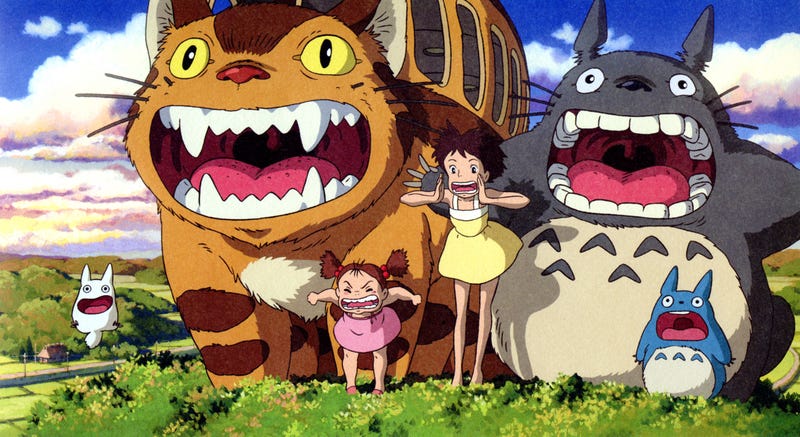 If you haven't completed your personal Studio Ghibli collection yet, three of Miyazaki's best films are down to some of the lowest prices Amazon's ever listed today, for Prime members only.
---
Fantastic Beasts and Where to Find Them wasn't exactly magical, but Harry Potter completionists will want to own it anyway, and it's already down to $13 complete with a digital copy.
Top Gaming Deals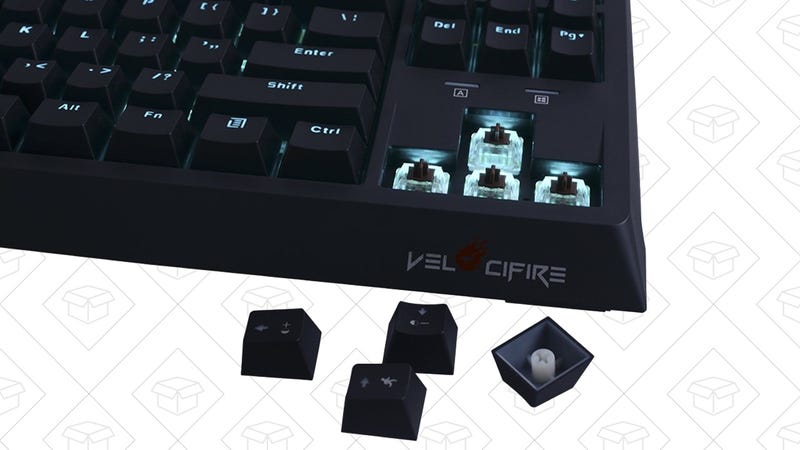 You've probably heard a lot of fuss about mechanical keyboards lately, and if not, you've at least heard the clicking. If you're curious to try one yourself without dropping a bunch of money, you can get a tenkeyless Velocifire model for $27, or a full-width keyboard for $10 more today.
The keys don't use name brand Cherry MX switches, but the switches it does include should closely mimic Cherry MX Browns, which are easy to press and quieter than most other switches, making them popular for office use.
---
One of the Xbox One's best games is actually a backwards compatible Xbox 360 title: Red Dead Redemption. Get the GOTY edition for just $15 from Amazon, and behold the fastest frame rate in the west.
Tech
Power

Audio
Computers & Accessories
PC Parts
Mobile Devices
Photography
Home
Kitchen
Tools & Auto
Lifestyle
Apparel
Beauty & Grooming
Camping & Outdoors
Media
Movies & TV
Books
Gaming
Peripherals
PC
PlayStation 4
Xbox One
Board Games
Toys